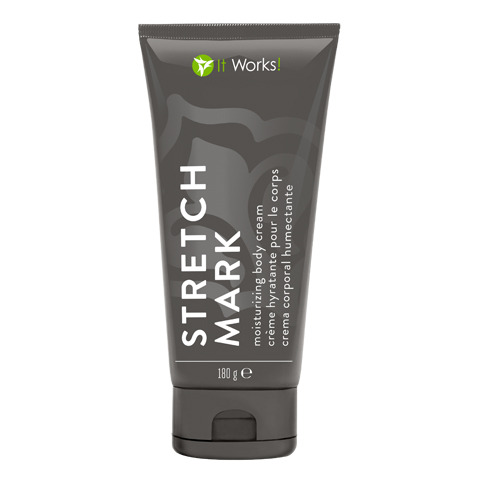 Stretch Mark
It Works! Skin Care
It Works! Stretch Mark is a non-greasy moisturizing body cream that leaves your skin feeling soft and smooth and looking more youthful. Experience luxurious hydration for all your skin with these nourishing botanicals.
Value
$93.00
Discount
40%
You Save
$37.00
Your skin doesn't end below your neck, so why should your skin care routine?
SKU :
CA212
Quantity :
6 oz / 180 g
Availability :
In Stock
Currency :
Prices are in Canadian Dollars (CAD).
Shipping :
Usually ships within 24hrs.
Delivery within 3 to 5 business days.
Enhances skin elasticity and firmness
Balances skin tone with nourishing botanicals
Rejuvenates and hydrates in a non-greasy formula
Restores your skin's youthful appearance
What is Stretch Mark?
Stretch Mark is a non-greasy moisturizing body cream with a powerful combo of nourishing botanicals to rejuvenate and hydrate your skin. It helps to restore skin's youthful appearance, improve firmness, and enhance skin elasticity while balancing skin tone with nourishing botanicals.
How should I use Stretch Mark?
Apply Stretch Mark in both the morning and evening over cleansed skin with a gentle massage until cream is completely absorbed.
Ingredients
Aqua, Propylene Glycol, Glycerin, Urea, Aloe Vera (Aloe barbadensis) Leaf, Caprylic/Capric Triglyceride, Ceteareth-12, Jojoba (Simmondsia chinensis) Seed Oil, Glyceryl Stearate, SD Alcohol 40, Decyl Oleate, Palmitic Acid, Stearic Acid, Phenoxyethanol, Caprylyl Glycol, Tocopheryl Acetate, Panthenol, Hyaluronic Acid, Polysorbate 20, Aminomethyl Propanol, Carbomer, Gotu Kola (Centella asiatica) Leaf Extract, Disodium EDTA, Horsetail (Equisetum arvense) Leaf Extract, Lavender (Lavandula angustifolia) Oil, Sorbic Acid, Sodium Benzoate, Marigold (Calendula officinalis) Flower Extract, Licorice (Glycyrrhiza glabra) Root Extract, Jurema (Mimosa tenuiflora) Bark Extract, Red Mangrove (Rhizophora mangle) Bark Extract, Sunflower (Helianthus annuus) Seed Oil, Myristic Acid, Methylsilanol Mannuronate, Retinyl Palmitate, Heptadecanoic Acid, BHT (Butylated Hydroxytoluene / Butilhidroxitoluol). Linalool, Geraniol.