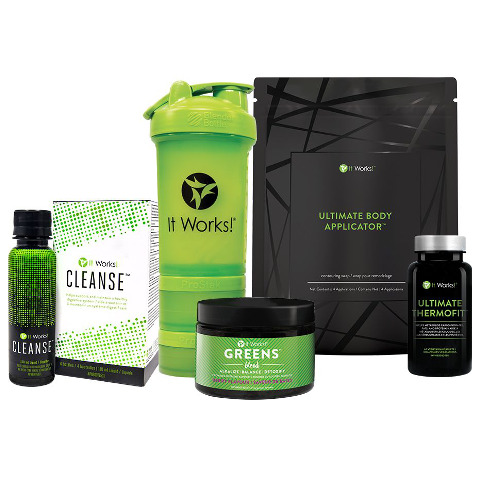 It Works! System
It Works! Ultimate Makeover Kits
It Works! System is a system so simple we can explain it in three words: WRAP. REMOVE. REBOOT. Get ready to experience life-shaking effects with the It Works! System! Three of our best products working together in a developed system!
Value
$300.00
Discount
40%
You Save
$90.00
Includes
SKU :
CA46103
Availability :
In Stock
Currency :
Prices are in Canadian Dollars (CAD).
Shipping :
Usually ships within 24hrs.
Delivery within 3 to 5 business days.
1 bag Ultimate Body Applicator™ (4 Applications)
1 jar Greens™ Blend - Berry Flavour (127.5 g)
1 box of Cleanse (4 x 118 ml)
1 bottle Ultimate ThermoFit™ (60 comprimés)
1 It Works! Blender Bottle
What is the Ultimate Body Applicator?
The Ultimate Body Applicator is a non-woven cloth wrap that is infused with a powerful, botanically based cream formula to deliver tightening, toning, and firming ! The botanical ingredients help to deeply hydrate and nourish the skin while redefining the appearance of your body's contours.
How do I use the Ultimate Body Applicator?
The Ultimate Body Applicator comes in a versatile shape that can be applied wherever you choose, such as the stomach, sides, back, upper arms, thighs, or lower legs.
To use the Ultimate Body Applicator, simply open an individual Ultimate Body Applicator pouch (four included in each bag of Ultimate Body Applicators), remove the Ultimate Body Applicator cream-infused cloth wrap, and unfold it. Place the cream-infused side of the wrap against your skin on the area of your body you target.
Secure the Ultimate Body Applicator in place with formfitting clothing, plastic wrap, or, for best results, use Fab Wrap™! You can apply the Fab Wrap by wrapping it around the Applicator you've applied. The Fab Wrap will cling to itself to keep that crazy wrap thing snuggly in place! Leave the Applicator on for 45 minutes, then remove and discard. Rub any remaining cream formula into the skin. The formula gives you progressive effects with continued use.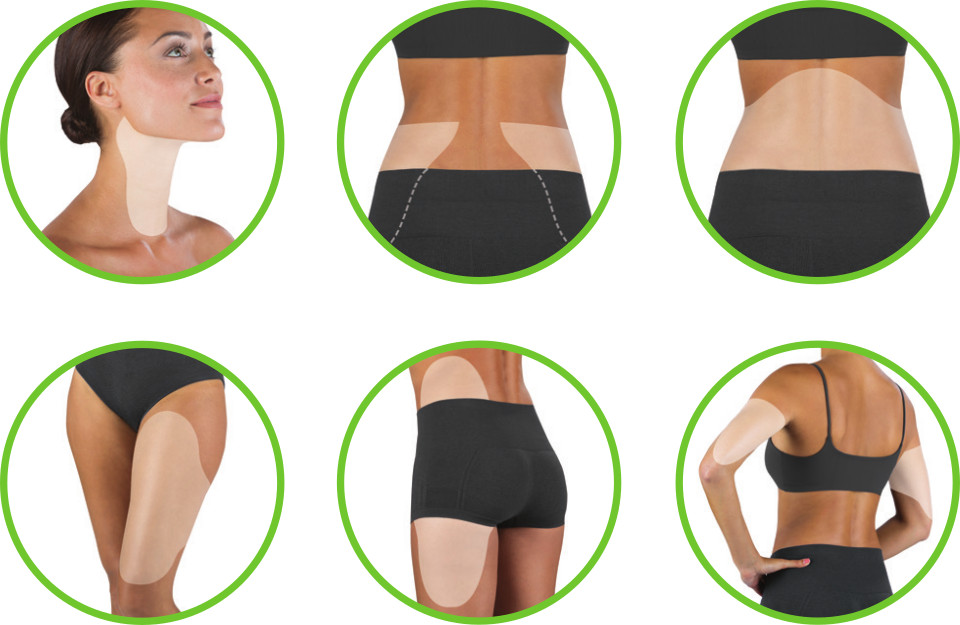 What is Greens?
Greens is an alkalizing, balancing, and detoxifying blend of 52 herbs and nutrient-rich superfoods, fruits and vegetables, and the pH-balancing blend of magnesium and potassium. With naturally occurring vitamins, minerals, phytonutrients, and enzymes, the nutrients found in Greens are at their highest bioactive, bioavailable form. That means maximum absorption by your body to support your best health.
The acidity-fighting combination of magnesium and potassium, is designed to alkalize the body and restore pH balance, and support the immune system for overall health and wellness.
Just two scoops or one convenient stick pack of Greens a day gives you results you can truly feel: increased energy and a clean-running digestive system, along with a detoxified, pH-balanced body for better overall health.
What is It Works! Cleanse?
It Works! Cleanse is a gentle two-day herbal cleanse that helps your body reset and rebalance itself so you can feel and look your best! Formulated to work with your body to help remove toxins while delivering essential nutrients and vitamins. It Works! Cleanse provides a powerful cleanse without the harsh effects other cleanses can cause.
How does It Works! Cleanse work?
Formulated with two blends (Herbal Cleanse Blend and Nutritional Cleanse Blend), It Works! Cleanse works with your body's natural biological functions to provide a deep and powerful but gentle cleanse for your system.
What is the Ultimate ThermoFit?
Ultimate ThermoFit is a naturally based, thermogenic formula that increases thermogenesis in the body. Thermogenesis is the process by which the body raises its temperature, or energy output. An increased energy output means the body has to raise its metabolic rate. As a result, more fat and calories are burned faster to support your higher metabolism and your lean muscle increases faster.